Main content starts here, tab to start navigating
Our Commitment to Safety
Both Flores locations are currently open for outdoor dining at limited capacity. Things will look a little bit different than before, but we are committed to keeping it fun and can't wait to see and serve you all.
Per the San Francisco Health Department's guidelines, you may not dine if you answer yes to any of the below questions:
In the past 10 days, have you been diagnosed with COVID-19 or had a test confirming you have the virus?
In the past 14 days, have you had "Close Contact" with someone who was diagnosed with COVID-19 or had a test confirming they have the virus while they were contagious?
Have you had one or more of these symptoms today or within the past 24 hours which is new or not explained by another condition?
Fever (100.4°F/38°C or greater), chills, repeated shaking/shivering
Cough
Sore throat
Shortness of breath, difficulty breathing
Feeling unusually weak or fatigued
Loss of taste or smell
Muscle or body aches
Headache
Runny or congested nose
Diarrhea
Nausea or vomiting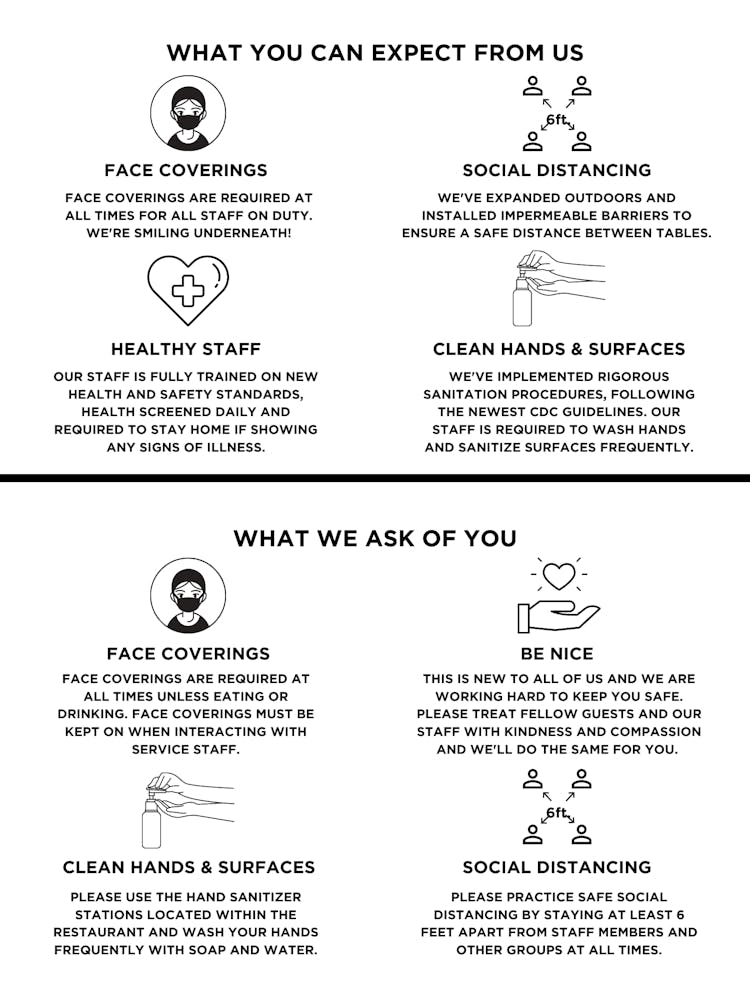 In adherence to the guidelines put in place by the State of California and county of San Francisco, here are the safety measures we are taking:
All tables will be placed 6ft. apart or with a partition in between them.
Reservations (where available) will be accepted in groups of 6 or fewer
Everything will be sanitized including all common surfaces and equipment, water bottles, credit cards, and pens
Single-use paper menus will be implemented at all restaurants
Social Distancing reigns supreme: including but not limited to the 6-foot rule and the use of masks and gloves when needed
Our staff has been well trained on COVID-19 related matters and is taking all necessary precautions including daily temperature checks and regular testing to keep you safe
Frequent cleaning and sanitation of restrooms and all communal areas
Be Safe!
Practice Social Distancing rules
Please stay home if you have any flu-like symptoms or any of the other symptoms that may suggest you are infected with Covid-19. A list of symptoms is available here
Per county orders, groups cannot be larger than 6
Always wear a mask, except when eating. This applies to ordering and using the restroom.
Help us reduce waste by looking at our menus online